I am okay with loose figures but they must at least be in decent condition.

Top of "MY Want List" is the unlicensed and unofficial stuff - the knockoff and prototypes. Here, I reproduced the list of images courtesy of Joe Madeira from bootlegactionfigures.com. Most knockoff are circa 1997 and 1998, as it coincide with the movie.
ITEMS TO TRADE

Tremor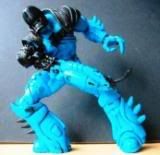 The Curse
Warrior Lilith
SOME OF THOSE IN THE WANTED LIST

Thanks Joe for the permission to reproduce them.